Valentine's Day Celebration

A Celebration of Love
Valentine's Day is celebrated in a big way around the globe! It is interesting to note that the popularity of this ancient festival has grown immensely and is said to be increasing by the year as more and more people are influenced by idea of celebrating love and relationships. The present generation holds the festival in high regard and celebrates the day by expressing love not just to their sweethearts but everyone they hold dear and special. We want to share these valentine sentiments with you.
Valentine's Day for Lovers
Valentine's Day holds immense importance for those in love. Lovers around the world take this day as an opportunity to express love for their beloved and spend a day honoring their relationship. Although we recommend that you appreciate your partner every day, Valentine's is a special day to benchmark your love. Indulging your sweetheart with flowers mainly red roses, chocolates, cards and other gifts of love is the other most popular custom of Valentine's Day for lovers. Celebrate each other with your very own special caring behaviors. Give each other the gift of attending a Getting the Love you Want Workshop if you have not already done so. Enjoy each other.
Valentine's Rose
The most popular flower on Valentine's Day is the red rose. Reasons for the same are two-fold, one is that the color red represents love, and Valentine's Day is the day of love, so the natural choice has to be a red rose. The second reason is in relation to the mythological significance of red rose, it is the favorite flower of Venus - the Roman Goddess of Love and Beauty and this also makes it the perfect choice to be given to someone you love. The rose has become the symbol of love and romance by poets, writers and philosophers.
Valentine's Hearts
Red heart pierced by the Cupid's arrow is a traditional symbol of Valentine's Day. Heart symbolizes love and giving someone a heart means to hand over one's existence to someone. A heart pierced by a Cupid's arrow means that when someone presents a heart, the person takes the risk of being rejected and feeling hurt. Piercing arrow therefore symbolizes death and vulnerability of love. Love is worth the risk as we become more fully ourselves by loving an "other".
Love is always bestowed as a gift
-- freely, willingly, and without
expectation....
We don't love to be loved; we love to love.
Leo Buscaglia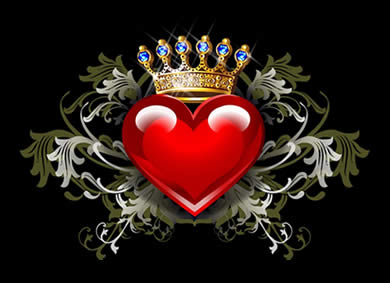 Valentine's Day for Singles
Valentine's Day festival is much awaited by those in love but dreaded by singles!! So much hype about that some singles even become depressed about not having a partner or a special relationship. Some times the sense of isolation becomes so strong that many singles tend to "hate Valentine's Day" - the day that is actually meant to celebrate love.
We have several suggestions for Singles regarding Valentine's Day.
Keep in mind that Valentine's Day is not just to be celebrated by romantically involved couples. The festival is celebrated to express love to anyone we are closed to. We can therefore celebrate Valentine's Day with friends, siblings, parents, grandparents, teachers or anyone who made a difference to our lives with their affection and support. Take the opportunity to express your love and gratitude to all persons you love. Send them Valentine's
Make the most of Valentine's Day by spending the day in the company of those you love or by indulging yourself
Pamper yourself by planning something you will enjoy
Plan to spend time with friends.
Throw a "singles party" or "Un-Valentine's Day Party" at your home and have a blast. You will know that life is fun in the company of loving friends.
Express Appreciation and Gratitude for friends and dear ones.
Think Positive. Move away from negative thinking. Your soul mate is walking toward you as quickly as you are walking towards them!
Take steps you think are vital to improve your chances for relationship. Make some resolutions for yourself and stick to them
Read Keeping the Love you Find for Individuals and give it to your Single friends
Attend a Keeping the Love You find Workshop in preparation for your new relationship.
Create an Imago Relationship Vision. Remember that energy follows attention. Visualize your dream partner and relationship.